Thompson's have been the bean people since 1924.
Canada's new food guide suggests you eat a variety of healthy foods which includes plant-based protein foods such as beans, peas, lentils and pulses. By adopting, or increasing your consumption of a plant-based diet, your heart will thank you. ♥
We're proud that our quality products have been made into countless family heirloom recipes for generations.
Revive your grandmother's or family recipe and use the brand they did. It's easier than you think. Making meals from scratch as they did can make you healthier, and saves you money.
There's no better time than now to include a plant-based diet that is natural, nutritious, non-processed and healthy. Start by making a whole foods meal today. We have a growing collection of tried and tested recipes.
Once you start cooking with dried beans, you'll find out how easy it is to add beans, peas and legumes to your favourite meals.
Thompson's works directly with local farmers to ensure the highest quality standards are maintained from field to fork!
Our extensive line of beans, peas and lentils, as well as whole kernel popcorn are available at most grocery stores.
If you don't see it on your grocer's shelves, simply ask them to carry the Thompson's brand.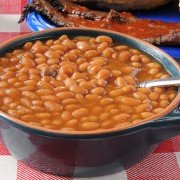 This is the only recipe that my mother ever used for baked beans. I'm a diabetic so I simply used 40% less sugar Crosbys Fancy Molasses and Heinz No Sugar Added ketchup, kept everything else the same. Beans are so full of fiber and so healthy. This is by far the best baked bean recipe ever.
Thompson's Beans Email Newsletter
Sign up to receive Thompson's Beans product update emails.