Calculating soybean yields can be difficult. Plant spacing, soil types, environmental factors, insect and disease stress can all affect the final yield. Pod numbers, seeds per pod, and seed size will all control yield.
When do I begin counting?
The earliest time to begin yield counts is around R5-R6 stage with the R6 stage being preferred (a pod on any of the top four nodes of main stem full of seed.). By R6, all flowering will stop, pods have developed, and seeds in the pods are mostly filled. The accuracy of counts will always increase the closer you are to harvest.
How many spots should I sample?
Generally doing a count every 10-15 acres is recommended. For soils that are extremely variable, doing a count every 5-10 acres would be beneficial. Select random spots in the field when walking through as you are trying to get the best representation of the field.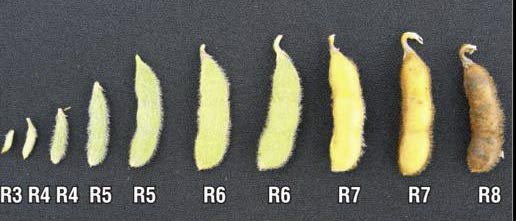 Steps to calculating yield
Count your pods
Count the number of pods in 1/10,000

th

of an acre.
| Row width | # rows to count | Length of row |
| --- | --- | --- |
| 30″ | 1 | 21″ |
| 7.5″ | 4 | 21″ |
Seeds per pod
The next step is to figure out how many seeds per pod you have. The average that most people use is 2.5. As you go through the plant counting the pods you will soon identify which number of seeds seems to be the most common.
Seed size factor
Most use the number 18 for seed size which is normal for 3000 seeds/lb. Depending on crop conditions and weather, you can adjust for larger or smaller seed sizes. IP varieties in general have a larger seed size than Roundup Ready soybean.
| Seeds per pound | Seed size factor |
| --- | --- |
| 2500 (large seed) | 15 |
| 2666 | 16 |
| 2833 | 17 |
| 3000 (normal seed) | 18 |
| 3166 | 19 |
| 3333 | 20 |
| 3500 (small seed) | 21 |
Calculate bushel per acre
Use the following equation to now calculate your final yield estimate. Do this for each count area and average the results.

# of PODS x SEEDS PER POD / SEED SIZE FACTOR = ESTIMATED BUSHELS/ACRE
---
Contact us
For more information contact one of our Agronomy Solution Specialists or any local Thompsons branch.
Chris Hunt, CCA
Agronomy Solutions Specialist
Phone: 519-676-5411, Ext. 20478 | Cell: 519-365-3593
Jevin Vyn
Agronomy Solutions Specialist
Phone: 519-676-5411, Ext. 20303 | Cell: 519-401-2120
Mike Wilson
Advanced Agronomy Solutions Manager
Phone: 519-676-5411, Ext. 20480 | Cell: 519-809-0284
---
Information and picture references:
https://www.agry.purdue.edu, https://www.pioneer.com, http://www2.ca.uky.edu, http://publications.tamu.edu, http://www.aganytime.com, http://ilsoyadvisor.com, https://dekalb.ca, http://farmprogress.com
https://andersonscanada.com/wp-content/uploads/2014/09/SoybeanField_800.jpg
800
800
Agronomy Team
https://andersonscanada.com/wp-content/uploads/2020/05/andersons-logo-canada-3.png
Agronomy Team
2015-09-24 08:00:27
2018-12-07 17:56:17
Estimating Soybean Yield