Lots at stake for U.S. agriculture amid Mexican, Canadian trade threats
CHICAGO, May 31 (Reuters) – With risks to U.S. soybean trade with China already in the air, trade threats from Mexico and Canada may be the last thing the U.S. agriculture industry wants to see. But that is precisely what happened on Thursday.
The United States fiercely angered its neighbors by proceeding with steel and aluminum tariffs against them despite earlier talks of possible exemptions. Unless the issue is resolved quickly, the impact on U.S. agriculture could worsen.
Canada and Mexico were the Nos. 1 and 3 importers of U.S. agricultural products by value in 2017, respectively. Both countries hit back with their own list of U.S. goods to target hours after the United States decided to impose tariffs on aluminum and steel imports from Canada, Mexico, and the European Union.
This only added to existing anxiety in the agriculture sector as the three countries continue talks to renegotiate the North American Free Trade Agreement.
On Thursday, Mexico's economy ministry imposed "equivalent" measures on U.S. farm and industrial products, effective until the U.S. government eliminates its tariffs. Mexico's Economy Minister estimated the tariffs would affect $4 billion in trade between the two countries.
Canada also announced on Thursday it will impose retaliatory tariffs on $12.8 billion (C$16.6 billion) worth of U.S. exports.
What is at risk
The Mexican list of U.S. goods includes pork legs, apples, grapes, cheese and steel. Canada's proposed tariffs cover whiskey, orange juice and other food products, in addition to steel and aluminum in various forms. Canada is the largest supplier of steel and aluminum products to the United States.
Mexico imported $19.5 billion worth of U.S. agricultural and related products in 2017, behind China with $24.1 billion and Canada with $24.6 billion. (https://tmsnrt.rs/2Jljvlj)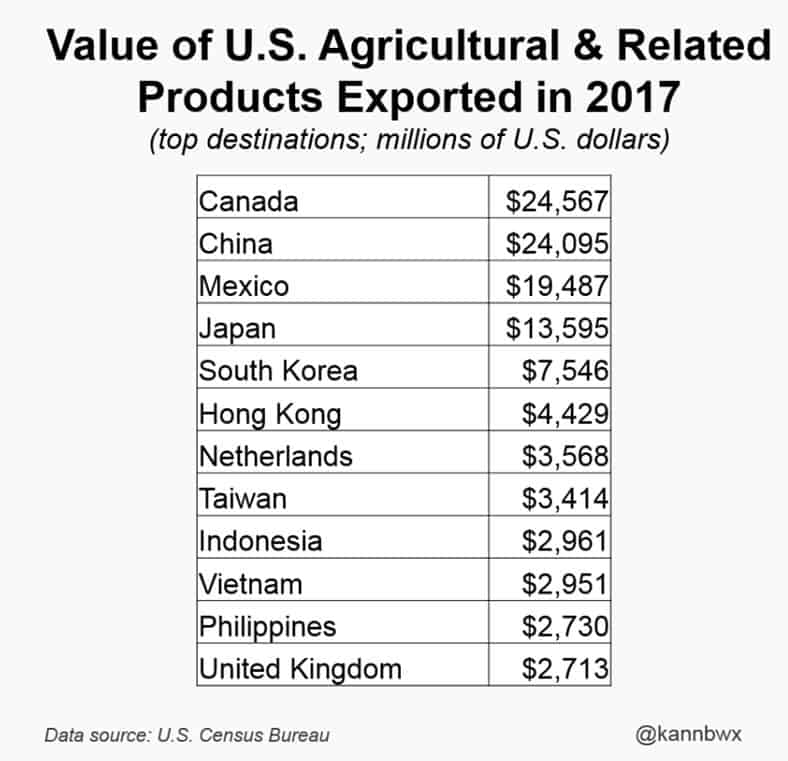 Canada's agriculture-related imports of U.S. goods mostly comprise consumer-oriented products, such as prepared foods and fresh fruits and vegetables. Mexico's top two grabs by dollar value are corn and soybeans, followed by pork and pork products at $1.5 billion. (https://tmsnrt.rs/2LaRWbL)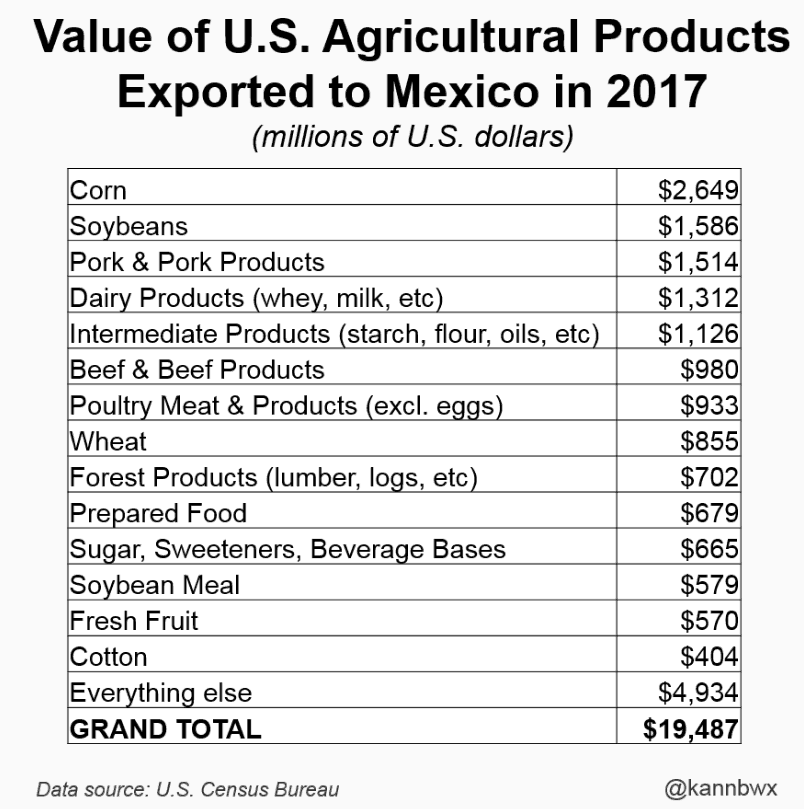 Mexico's measures appeared to include only a portion of U.S. pork and product imports, but traders did not like the news. July lean hogs on the Chicago Mercantile Exchange plunged 3 percent on Thursday, its largest single-day percentage drop in two months.
Luckily for U.S. corn and soybean producers, their products were not in Mexico's crosshairs on Thursday, but that does not mean they are safe.
In terms of Canada's list, exports of U.S. fruit and vegetable juices to its northern neighbor totaled $412 million in 2017, with orange juice products accounting for a little less than half.
Even more at stake?
With the amount of corn and soybeans it purchases, Mexico has more potential to directly influence U.S. grain and oilseed markets than does Canada. Mexico's threat to U.S. pork also directly impacts grains because they are used in livestock feed.
The way the ongoing trade dispute with China unfolded should be a lesson. China's list of U.S. goods to tax did not include soybeans when threats initially started flying between the two countries earlier this year. But when Washington raised the stakes so did Beijing, throwing soybeans into the mix, which are worth at least $12 billion a year to the United States.
If Mexico wants to inflict pain on U.S. agriculture, corn would be its trump card, followed by soybeans. The United States shipped 14.7 million tonnes of the yellow grain to its largest buyer in 2017, worth $2.65 billion, and that made up 28 percent of total U.S. corn shipments.
Mexico is the top customer of U.S. pork and pork products, accounting for one-third of all U.S. exports last year. It is also the No. 2 buyer of U.S. beans and meal. The United States shipped 3.9 million tonnes of soybeans to its southern neighbor in 2017, worth $1.6 billion.
So far, sales of U.S. corn and soybeans to Mexico for the 2017/18 marketing year have been strong, despite fears that tough trade rhetoric out of Washington would spoil business.
Mexico's year-to-date (through May 17) purchases of U.S. corn for 2017/18 total 13.4 million tonnes, some 6 percent more than last year. Soybean purchases for delivery in the current marketing year are an impressive 21 percent larger than a year ago at a record 4.2 million tonnes.
---
Source: By Karen Braun, Reuters News
(The opinions expressed here are those of the author, a market analyst for Reuters.)
https://andersonscanada.com/wp-content/uploads/2018/06/CanadaMexicoUSA_flags_800.jpg
307
800
Head Office
https://andersonscanada.com/wp-content/uploads/2020/05/andersons-logo-canada-3.png
Head Office
2018-06-01 11:51:39
2018-06-27 12:21:21
Lots at stake for U.S. agriculture amid Mexican, Canadian trade threats