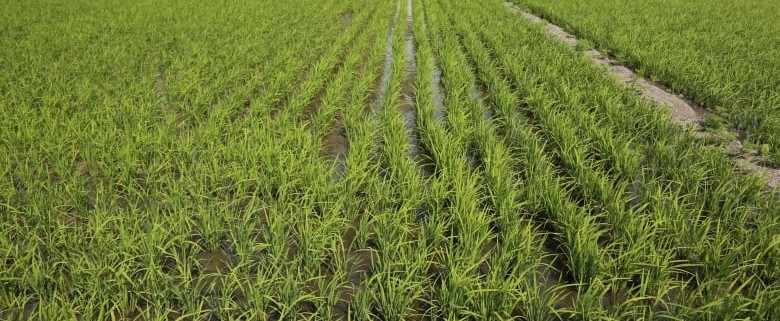 Local rice? Experimental farm showcases crop in Chatham-Kent
Experimental crop is about a hectare in size, located off Queen's Line on Drake Road
Source: Jonathan Pinto · CBC News ·
Rice is grown in Asia, Africa, the southern United States — and if Ontario FangZheng Agriculture Enterprise has its way — one day across Chatham-Kent.
On Friday, the company held an open house to celebrate the successful planting of its first-ever experimental crop of medium-grain rice, grown on a hectare of land on a roughly 29-hectare farm located off Queen's Line on Drake Road.
Farm manager Wendy Zhang, who recently graduated from an agricultural masters program at the University of Guelph, said that the unusually wet spring that has concerned many local farmers actually helped her crop in a way, since rice is grown in wet conditions.
"I kept saying to my farmer friends, "I'm happy [that it's raining today] — I save money on [gas for my water pumps!]"
Zhang explained that the goal is, once commercially viable, to export the rice internationally, particularly to the Chinese market.
"Canada has got a very good reputation in the international market with food quality and safety control," she said. "We want to produce high quality, clean rice … in Canada we can ensure that."
Tap on the player to hear reporter Jonathan Pinto talk about his visit to the farm on CBC Radio's Afternoon Drive.
When asked if the current tensions between Canada and China may put a damper on Chinese demand for Canadian products, Zhang wasn't concerned.
"As a Chinese citizen who lives in Canada, Chinese people [have liked] Canada for a very long time," she said. "There's something happening right now [between our two countries] but I truly believe it's a temporary thing."
Zhang also noted that her company is a private enterprise not controlled by the Chinese government.
University of Guelph professor John Zandstra, who has been providing assistance to the project, said he was initially skeptical of the idea of growing rice in Canada.
"I kinda laughed at first," he said, explaining that he thought of rice as something only viable in the southern United States. "[But] when they got explaining where they grew it [in China] and when I went there and saw it, [I thought] 'well yeah, this might work.'"
Gus Kotsakis, an industrial and commodities sales manager at Dainty Foods, which operates arice mill in Windsor — the only of it's kind in Canada — said when he was first approached by Zhang, his company also didn't think growing rice in Canada would work.
He was impressed with what he saw on the farm Friday.
"I'm going to bring pictures and everything that was discussed here," he said. "I think it's great news for the area. We look forward to working with them long term as a partner on this project, where we could help them with milling and processing the rice."
This year's crop will be harvested this fall, with the rice used to seed a larger crop for next year.
While there are still a few regulatory hurdles before the crop can become commercially viable — the government, for example, doesn't have any approved fertilizers and pesticides for rice because the grain hasn't been grown here before — Zhang is confident those issues can be quickly addressed.
"We want [commercial harvesting to] happen next year," she said. "We have the passion to do it."
https://andersonscanada.com/wp-content/uploads/2019/07/ck-rice-farm.jpg
520
780
Ryan Mortier
https://andersonscanada.com/wp-content/uploads/2020/05/andersons-logo-canada-3.png
Ryan Mortier
2019-07-02 16:11:52
2019-07-02 16:15:14
Local rice? Experimental farm showcases crop in Chatham-Kent