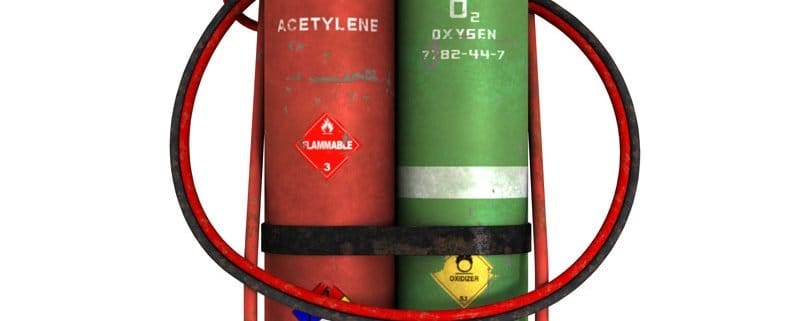 Safety: Compressed Gas Cylinder Storage
Compressed gas cylinders pose significant hazards.
 Consider the following safe practices:
Store cylinders in a clearly identified, dry, well-ventilated storage area that is not exposed to heat and away from doorways, aisles, stairs, etc.
Post "No-Smoking" signs in the storage area
Store cylinders, both empty and full, in the upright position. Secure cylinders with a chain or properly rated belt
Ensure that the valves are closed tightly with the protective caps in place
If storing cylinders outside, place them on a fireproof surface and enclose a tamper-proof secured enclosure
Protect cylinders from contact with ice, snow, water, salt, corrosion, and high temperatures
Use a chain or adequate support system to protect cylinders from falling. Consider securing each cylinder separately to prevent other cylinders from falling when items are removed from storage.
Separate oxygen cylinders from fuel gas cylinders or combustible materials.
In addition, always avoid the following activities:
Avoid fastening cylinders to a work table or to structures where they could become part of an electrical circuit
Do not store cylinders in enclosures such as lockers or cabinets
Do not tamper or alter safety devices
Avoid placing cylinders in a horizontal position
Do not accept compressed gas cylinders from the supplier unless they are properly labeled and contain protective valve caps
Avoid dragging, sliding, or dropping cylinders. They can be rolled for short distances on their base. Use of cylinder trolley or cart is preferred. Always secure the cylinder to the cart or trolley.
https://andersonscanada.com/wp-content/uploads/2018/10/OxyAcetalyneTanks.jpg
800
800
Ryan Mortier
https://andersonscanada.com/wp-content/uploads/2020/05/andersons-logo-canada-3.png
Ryan Mortier
2018-10-04 13:30:42
2018-10-04 13:35:18
Safety: Compressed Gas Cylinder Storage