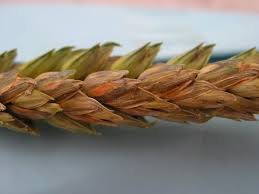 The less infected kernels that go into storage the better, and the greater of a chance a grower will have for not getting docked to a lower grade of wheat.
Combine tips and notes
Higher fan speeds are needed to blow infected kernels out the back. Ridgetown College has done studies on fan speeds, and there is a tenfold decrease in the amount of Fusarium damaged kernels in a sample when the fan speed is at maximum blast. But with that comes challenges of losing good healthy kernels.
Research from Ohio State showed combine fan speeds between 1375 and 1475 RPM and the shutter opening at 3.5 inches received the lowest discounts at elevators from FHB damaged wheat kernels and DON levels in the harvested grain.
Reduce combine speed. Having the combine traveling at a slower speed, will allow better separation between the good and bad kernels.
In fields which are severely affected by leaf diseases, the lower test weight of the grain may make it more difficult to separate normal kernels from Fusarium damaged kernels.
https://andersonscanada.com/wp-content/uploads/2015/07/FusariumHeadBlightField.jpg
1200
1600
Agronomy Team
https://andersonscanada.com/wp-content/uploads/2020/05/andersons-logo-canada-3.png
Agronomy Team
2015-07-06 15:17:04
2015-07-16 17:37:20
Managing Fusarium Head Blight at harvest