Lifting and rigging work is considered a high hazard task.
Protect yourself, your coworkers and the people around you while performing any hazardous type of work–on the job or at home.
There are a lot of associated hazards that accompany lifting any loads with cranes or equipment. It is important to not only understand proper rigging techniques, but also the other hazards that accompany this type of work task.
Lifting and rigging incidents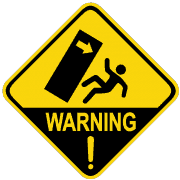 The first type of incident regarding lifting and rigging is some type of breakage of a sling, wire rope, or chain resulting in a dropped load. While these type of incidents usually have the most severe consequences, there are often many other types of less severe incidents that cause the majority of injuries or property damage.
Some of the other injuries and incidents that occur are sprains, falls, crush injuries, electrocutions, and struck-by incidents.
Hazards such as swinging loads, manual handling of heavy rigging, holding on to tag lines, moving equipment, pinch points, working on elevated surfaces, trip hazards, slippery surfaces, etc. can all be present during lifting operations.
Safe work practices
Anyone in a work area where a lift is being performed should be properly trained on the work scope, hazards, and mitigations of the task.
Inspect all rigging prior to using it for a lift.
All rigging should be properly stored after lifting operations are complete. Proper storage helps prevent the rigging from being damaged.
Summary
Proper planning and forethought is important to eliminate hazards and avoid incidents.
Be aware of the hazards that affect you and your coworkers on each unique lift that is completed.
---
The safety of our employees, customers, contractors, suppliers, visitors and the community is of the utmost importance to us.
Work safe. Farm safe. Home safe.™
---
https://andersonscanada.com/wp-content/uploads/2014/08/Shipping.jpg
533
800
Ryan Mortier
https://andersonscanada.com/wp-content/uploads/2020/05/andersons-logo-canada-3.png
Ryan Mortier
2018-06-28 16:59:25
2018-08-01 12:01:33
Lifting and rigging safety